The Only Educational Soft Toys in the World to be STEM Authenticated
DOLCE MISSION
---
To engage children from a young age with educational entertainment.
WHY?
Research from top universities in child psychology and educational theory suggests that children learn most rapidly when they are stimulated by something fun and enjoyable. A child is most engaged when they are playing. With the Best educational toys for babies, this creates an acceleration in the development of cognitive functions, coordination and memory retention.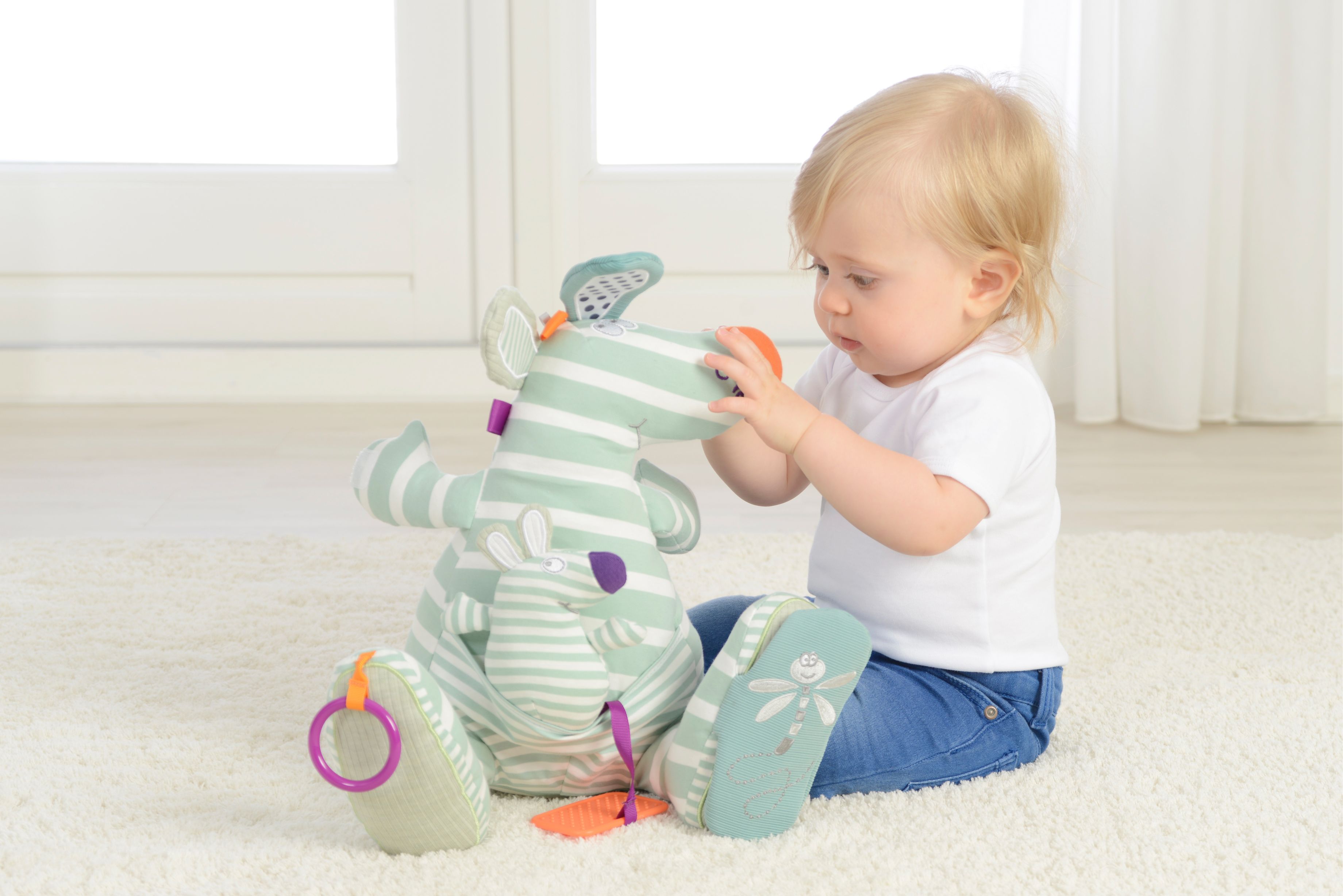 THE HIGHEST STANDARDS OF QUALITY AND FUNCTIONALITY
---
Dolce achieves this by manufacturing toys to the highest standards of quality and functionality.  Every toy has been designed to be friendly and engaging to encourage learning through immersive interactivity.  The toys are generally targeted at children aged 0-3.  The bright colours, soft materials and accessible functions are perfect for young children who will be delighted with their new friends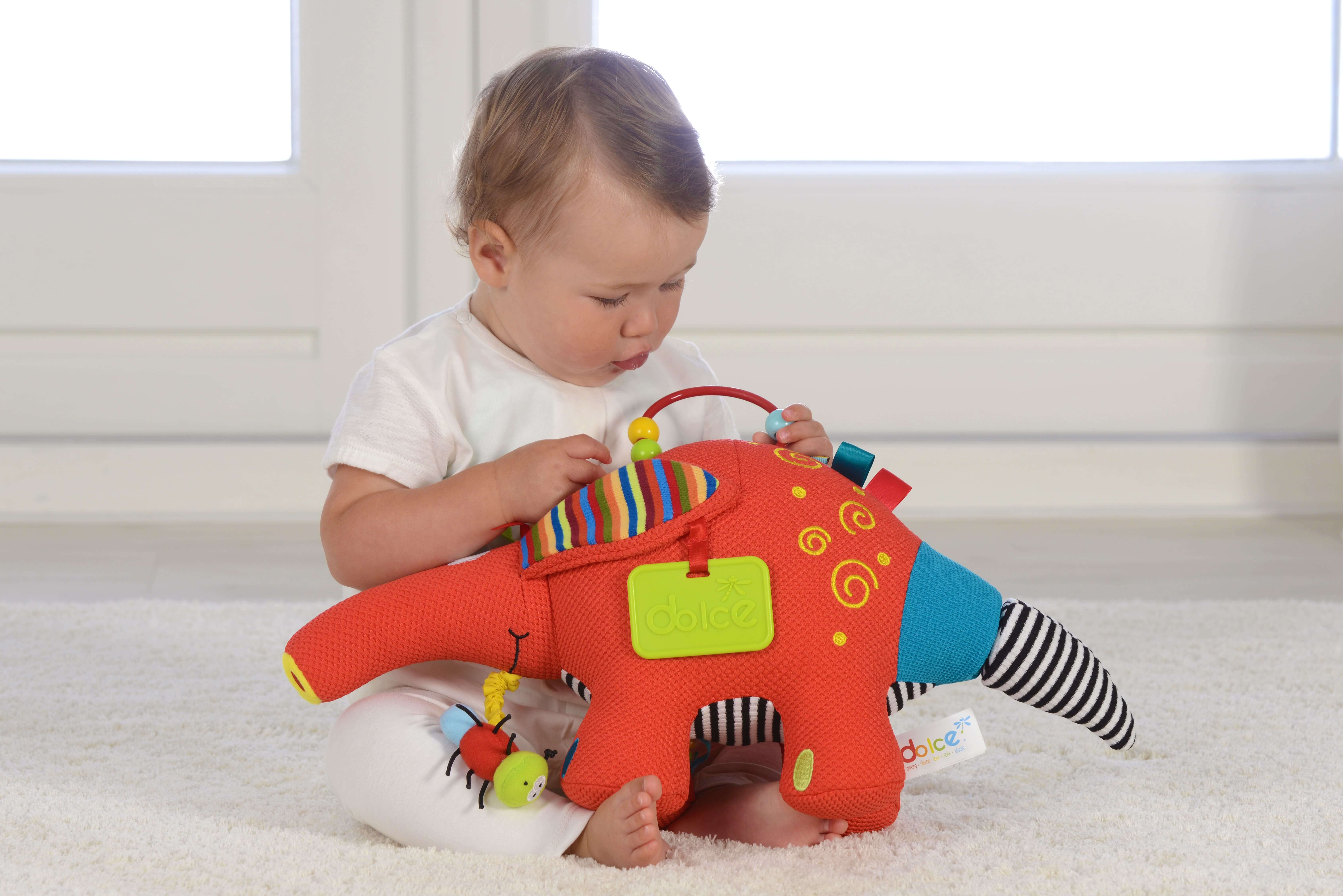 DOLCE STAGES OF DEVELOPMENT IN EARLY LEARNING
---
Learning happens most rapidly between the ages of 0 and 3 years.  These years create the crucial foundations of learning:
Social and emotional: How a child forms relationship and processes their feelings.
Language and communication: Development of verbal and non-verbal interactions as well auditory skills.
Cognitive: Development of problem solving, memory retention, numeracy and literacy.
Physical: Development of motor skills and coordination through movement as well as muscular formation.
Child psychologists generally split the first 3 years of a child's life into 8 stages.  We have compiled information on each of these stages for you to read and suggested which DolceToys which will maximize learning at that age.  Of course, the age boundaries for each stage will not be the same for every child.  Some children will noticeably progress through each stage more rapidly so it's important to consider the behavior of a child as well as the age in order to determine the stage of development.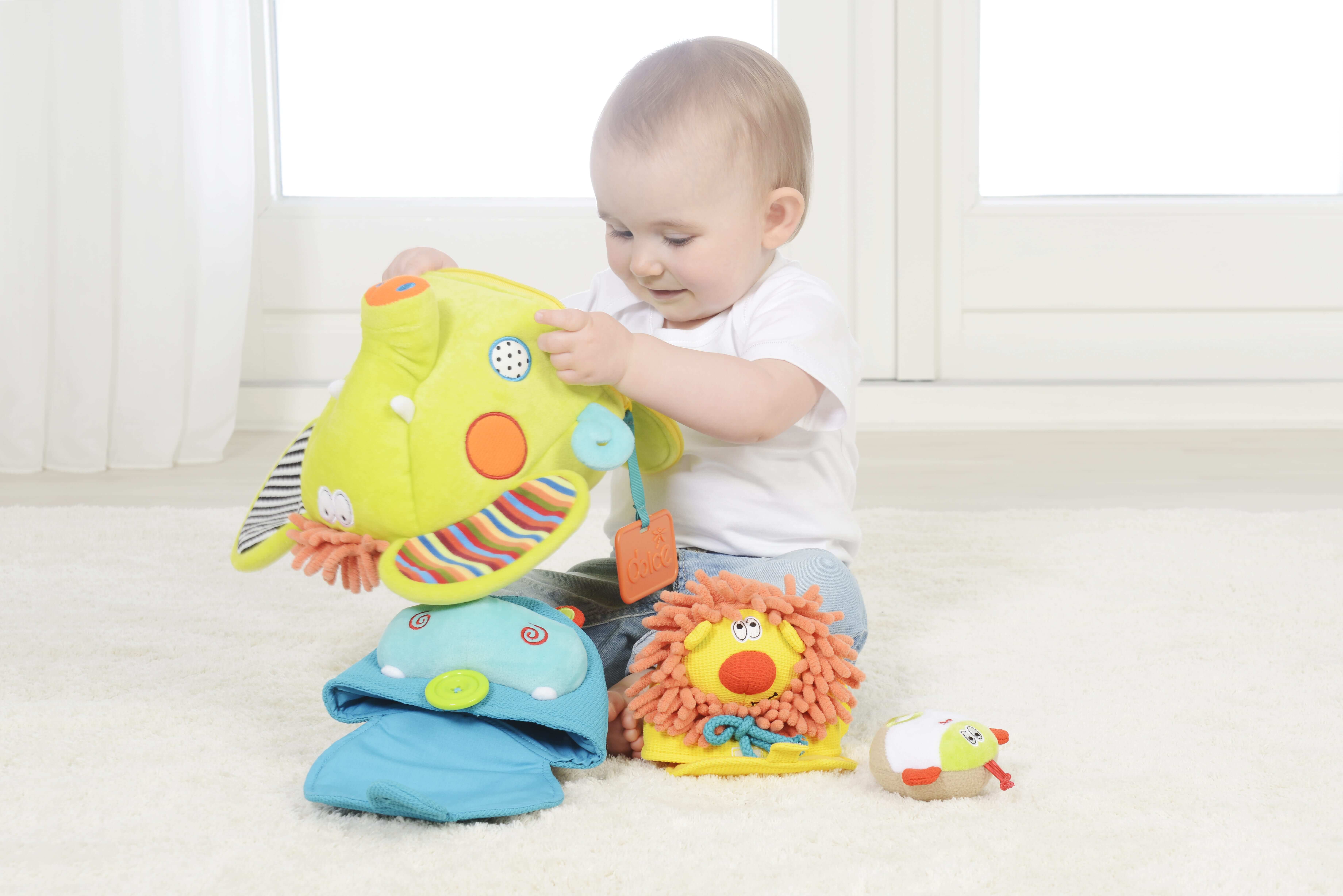 THE ROLE OF PLAY
---
Infants and toddlers alike can enhance motor, cognitive, emotional, and social development through the art of play. Play is important for enhancing not only the interaction between you and your child, but also the attachment between you both. When you interact with your infant through play, the likelihood of secure attachment within your child is increased and later separation anxiety will not be as big of an issue. Your child will feel secure to explore the world, safe in the knowledge you will be there upon their return.
Adults go to work. Full-time working adults typically work at least eight hours a day and at least forty hours a week. Your children do not have jobs that they go to every single day, and before age five most do not attend school. Play for your children is their work. It is how they develop their muscles and the skills they need to survive in the world around us. They learn how to communicate, how to interact with others, how to share, how to win, how to lose, how to take turns, how to be patient, how to solve problems and build the strength in their muscles (among many other things) through the act of play. Play is essential to the development of your child and is essentially what their entire world is about.
HOW DOLCE TOYS CAN BE USED TO ENHANCE DEVELOPMENT
---
It is important to understand that through any type of positive interaction between you and your child, bonds are being formed. Any type of play or interaction affects the type of attachment your child will experience with you.
You can also utilize playing in order to not only build an attachment with your children, but to teach and enhance developmental milestones and cognitive knowledge. When learned through active play, your children are more likely to retain the information learned because they enjoy the way in which it is taught.
Children will be interested in learning about important and valuable things through play. This type of engagement maximizes the ability of memory retention.
You can use any of the Dolce toys in order to form a secure attachment and bond with your child. The simplest way to play with your child is to show them how a toy works and teach them how to manipulate and control the toys on their own. This will enhance language and communication skills.
Dolce toys ensure that your child will enjoy developmental and learning benefits in a highly engaging and stimulating way. Each toy has been designed to contain several options for play so that children will not get bored and develop a personal affinity with the object. You can learn more how these toys can be a great choice for your child by clicking on each toy enlisted hereunder.
Baby Early Development Toys
Social / Emotional
This stage is typically characterized by fast sensory development. Newborns, up until around the age of 2 months, will rapidly develop their sense of touch, taste, sight, smell and sound. This will create reactions that are most noticeable through facial expressions. DolceToys should make children smile and laugh at this stage of development as well as act as soothing objects by the feel of soft materials and use of teethers. Facial and vocal recognition will also begin to develop as they establish emotional relationships with their parents and people closest to them.
Language/ Communication
In this stage of development, your child should have begun cooing at certain things and educational toys. Typically, they have also begun making gurgling sounds. Infants at this age should also be able to distinguish sounds and indicate that they can by turning towards various different sounds that they hear.
Cognitive
Cognitive development largely relates to memory retention at this stage. Newborns are absorbing the world around them with feverish attention to detail so that they will be able to recognize familiar faces, sounds and objects. Their perception of sizes, shapes, colours and tones will develop rapidly. For this reason, it is essential to maintain a high level of stimulation and buy Educational toys for babies. Repetitive or monotonous tasks will create boredom and lead to crying.
Physical
Children are discovering their bodies through movement. By two months they should be able to hold up their own heads. From lying on their stomach, they should also be able to raise themselves with their arms. This reflects a healthy growth of muscles. Baby early development toys help with movements that become less sporadic as coordination and motor skills develop rapidly.
Social / Emotional
This stage is typically characterized by the development of personal preferences. Children will begin to discern between things that they enjoy and things that they don't. Smiling and laughing generally indicates a child's enjoyment whilst crying and restlessness indicates dislike. They will begin to mimic those around them by copying facial expressions. Having the right role models and toys around as calming, benevolent influences is essential to help with the formation of positive emotional and social relationships.
Language/ Communication
Children will begin to express themselves through babbles at this stage. They are trying to communicate their emotions by signaling hunger, pain, fatigue or boredom. The babbles also represent the first stages of talking.
Cognitive
Development of cognitive functions at this age largely relates to depth perception and recognition of familiar people or objects. Children should start being able to reach out for things and grasp them firmly. Since a child has begun to develop personal preferences, they will recognize different colours, shapes and sounds and relate them to positive or negative emotions.
Physical
By four months old, your infant should be able to steadily hold their head up, completely unsupported. They will also begin to push down on their legs if their feet are on top of a hard surface. Some four-month old possess the ability to roll over from their tummy onto their backs. This age range typically possesses the ability to physically hold and shake a toy. They can also typically swing at dangling toys. They should have begun to push up onto their elbows when they lie on their stomach. They should also possess the ability to actively and constantly bring their hands to their mouths.
Social/Emotional
Personal relationships develop rapidly at this stage. Children will recognize familiar people and objects and be extremely curious about new things. Your child will develop strong bonds with their favorite people and toys. Emotional intelligence begins to develop at this stage and children will become a lot more acutely aware of when people around them are sad, happy, angry or calm. With the right stimuli, children should be extremely happy at this age and delight in the act of play.
Language/Communication
This stage can typically be characterized by an establishment of conversational skills. Sounds your child will make will no longer just signal their own emotions but actually be attempts at responding. Babbling will begin to sound more coherent with the forming of vowel sounds. Talking to your child or having toys that encourage two-way communication will boost development.
Cognitive
Organizational skills begin to develop at this stage. A child will start to arrange objects and toys best on preferences such as shape, colour and material. By giving a child the option to choose between various toys and activities, you will boost the development of organizational cognitive skills.
Physical
When your child is between four to six months, they should be able to roll over in any direction. It doesn't matter if it's from their tummy to their back or from their back to their tummy; infants at this age should be able to roll over. They should also begin to sit unsupported. They should be able to stand, typically holding onto either an object or your hands. Typically, while they are standing they can support their own weight and may even bounce up and down. Rocking backwards and forwards is also common at this age, and some might even develop the ability to crawl backwards before they can crawl forwards.
Social/Emotional
Children at this stage may show signs of fear or apprehension when approached by a stranger. They may also tend to cling to adults that are familiar to them, especially their parents or caregivers. They will also begin to have favorite toys, or toys that they prefer to play with over others.
Language/Communication
Children between the ages six and nine months typically understand what the word no means. Their babbling has turned into different distinguished sounds and begins resembling actual words. They will also not only copy the sounds others make, but physical gestures as well. This is also the stage in which infants begin to point at things.
Cognitive
An understanding of numeracy will begin to develop at this stage. Children will know how many toys or objects that they possess and arrange them according to personal preferences. If one of their toys is missing, then they will notice. If another toy is added to their collection, then they will become curious about where it came from. Encouraging curiosity at this age will help to develop numeracy and organizational skills.
Physical
Typically, your child should be able to stand while holding onto an object at this age. They should also be able to put themselves in a sitting position, instead of needing you to aide them. They should typically be able to sit unsupported, crawl, and stand up by themselves at this age.
Social/Emotional
Emotional attachments should have developed deeply by this stage. A child may cry when they are unsure about the whereabouts of their parents. They are acutely aware of strange people of objects and will regard them with curiosity and caution. They let you know when they want something. For example, your child may bring you a book if they want to hear a story. They will begin to seek attention from those around them and want to entertain as well as be entertained. They will bring enjoy showing their favorite toys to new people and expect them to share the enjoyment.
Language/Communication
Infants in this stage finally begin responding to simple verbal requests. Shaking their heads, no, nodding yes, and other simple gestures are commonly obtained within this stage. Infants will also begin to change their tones as they make various sounds. They will say small words such as "mama', "dada", and "uh-oh". It is also during this stage that infants will begin trying to repeat words that you say to them.
Cognitive
Numeracy and organizational skills continue to develop at this stage. Children will order things based on colours and shapes. They will place items together or put one toy inside another toy. Experimentation is hugely encouraged at this stage since the best way of developing cognitive skills is through self-discovery.
Social/Emotional
Children between the ages of 12 to 18 months typically enjoy handing things to other people as they play. They begin to learn how to share. They show affection to people they know and recognize. They begin utilizing simple pretend play techniques by doing tasks such as feeding their favorite doll. They will begin desiring more independence and given the opportunity to explore new things. During this stage, infants will also point with the intention of showing others something they personally find interesting.
Language/Communication
Children during this stage typically possess the ability to say several simple words. They also point at what they want and may say the name of the object as well.
Cognitive
Due to development in language, this stage is vital for introducing letters. Children have become adept at recognizing and discerning different shapes so an introduction to the alphabet will be of great assistance to the development of literacy skills. Children should not only be able to order different objects but also begin to count them. Their conceptual understanding will also begin to develop as they establish and understanding of functionality with things like telephones and spoons. Most have the ability to point to one body part at a time, for example they will point to their nose if someone says "nose". Creativity will also begin to flourish during this stage. Children will delight in activities such as drawing or sculpting.
Physical
Children between the ages of 12 and 18 months typically obtain the ability to walk unassisted and some may even obtain the ability to walk or run up and down stairs. They can pull toys behind them or push toys in front of them as they walk. Muscular development will happen crucially at this stage so physically active play is hugely encouraged.
Social/ Emotional
Typically, at this stage your children copy others constantly, especially you or any siblings they may have. Becoming excited around other children is also common. Increasingly more independence is shown with each passing day. This is also the period in which your children will commonly begin to show defiant behaviors and intentionally do things they have been told not to do in order to test limits. Children will be able to organize games between them at this age. Organized play with other children is hugely encouraged.
Language/Communication
They specifically point to both things and pictures any time the object is named. Knowledge of both familiar people and body parts and the names associated with each is common for this age range. Children between 18 months to 2 years of age begin speaking in short sentences. They can follow simple instructions and will repeat words they hear in conversation, even when they are not a part of the conversation. They also begin to point to certain objects within a book.
Cognitive
Creativity and imagination characterize cognitive development at this age. Children have gained the conceptual, literary and numerical understanding to make up their own ideas and unique styles of play. Toys will take on personalities and become part of a highly stimulating world of play. Encouraging creative, imaginative play at this age is hugely encouraged.
Physical
Children in this age range can stand on the tip of their toes and kick a ball. They also develop the ability to run and climb on and off of furniture without assistance. It is common that they can walk up and down stairs, but sometimes they may still hold onto a rail or person for either support or simply for reassurance. They can throw a ball overhead. Finally, they can either draw, trace, or copy straight lines and circles.